Based in his cool eccentric Old street studio, Marcello oozes passion and creativity, the first thing that I notice is the space around his long desk, almost a shrine to KITE; I think to myself this is most certainly where the magic happens. Hours of time dedicated to meticulous craft and artisan design.
Marcello tells me about his journey with KITE, his inspiration, and his vision for KITEs future. Word of caution, if you want to stay ahead of the game and know the next hottest trends in eyewear, keep your peepers on this page.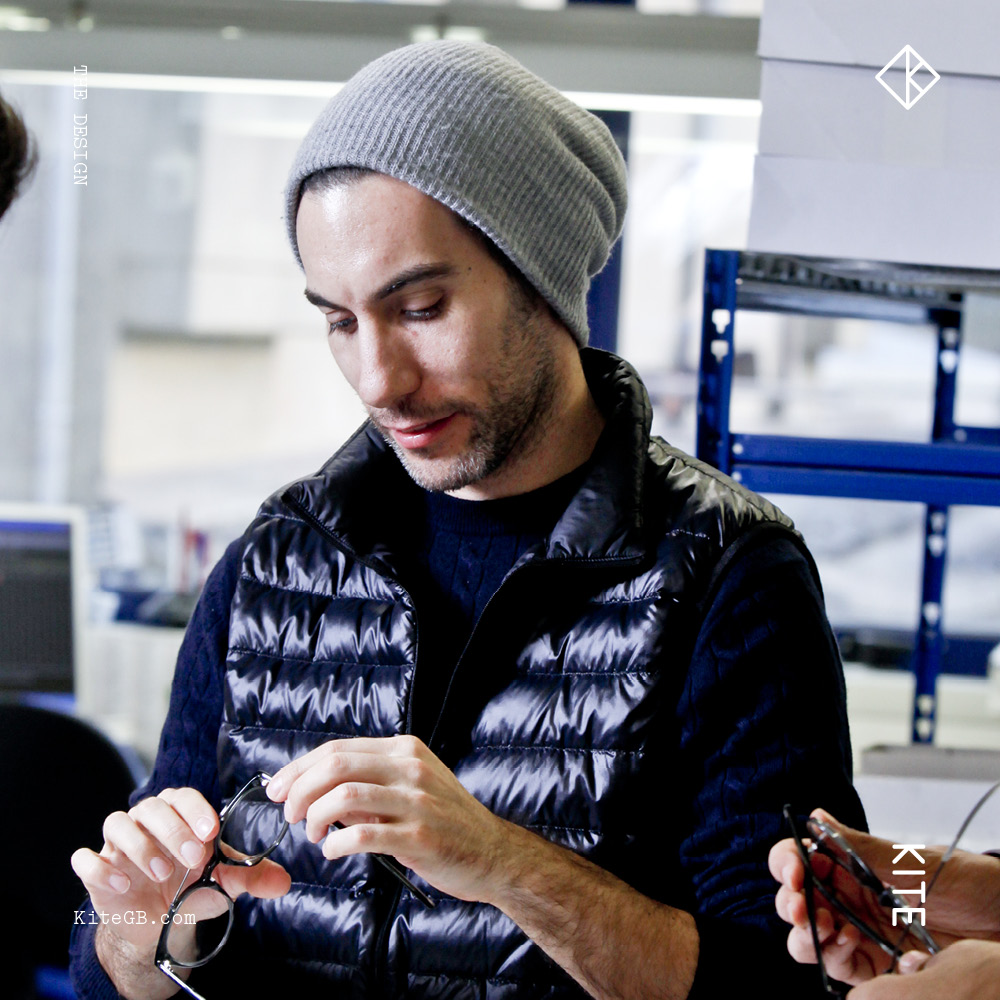 Where did your inspiration for the designs come from?
When designing for KITE, I had a wide range of personalities in mind. This is also one of the reasons we have names for the frames.
I live on Stanley road, and I wanted to call one of the frames Stanley. So I tried to imagine what type of person would live on Stanley road, I thought of what hobbies this person would have, where they would hang out, where they would work. All the 20 frames designed, have all gone through this thought process in my mind.
East London and London also played a vital role in the design process, and so did traditional English heritage. Overall it was about providing great design, which was great quality.
Are any of the frames a portrayal of your personality?
(Laughs) Of my alter ego's maybe- Like the Boundary. At the time when I was designing them I was really into flat top frames, so that's where they stem from. The Martino for example, was a play on someone from London travelling to Monaco or the South of France, walking about in his Loafer's.
Do you have a favorite?
Erm, yer I do have I feel like they are all my little babies. But there's a couple of frames that I particularly love, Bloomsbury, Charlotte, Berkley, Pembroke, Boundary and of course the Martino.
What are your thoughts on the store?
It's very fresh, I really like it. The staff is really unique to the eye care world.
Do you design anywhere and anytime an idea comes to you?
It's almost like before I even sketch or creating the silhouettes, I think about specific personalities. But yes, whenever an idea comes to me I start sketching.
What do you like to do outside of work?
Tennis, I play quite a bit.
So, is that where the idea for the TWR frames came from?
Yeah, TWR's were for those people who play tennis or cycle. The idea was to cater to someone who has an active lifestyle, but can have a singular type of universal eyewear.
Mirrored lenses is another concept that people love, tell us more about that.
I think it's correct to say that these were always more European fashion. They've always been very popular in Italy, this stems back to the 80's when Police launched blue tints. In the UK, people have almost until recently been a little afraid. What KITE have done is offer this trend in a variety of colours, some more bold and some a little more subtle.
My own inspiration for Mirror lenses, comes from the time which I have spent in Italy, Milan Fashion Week for example.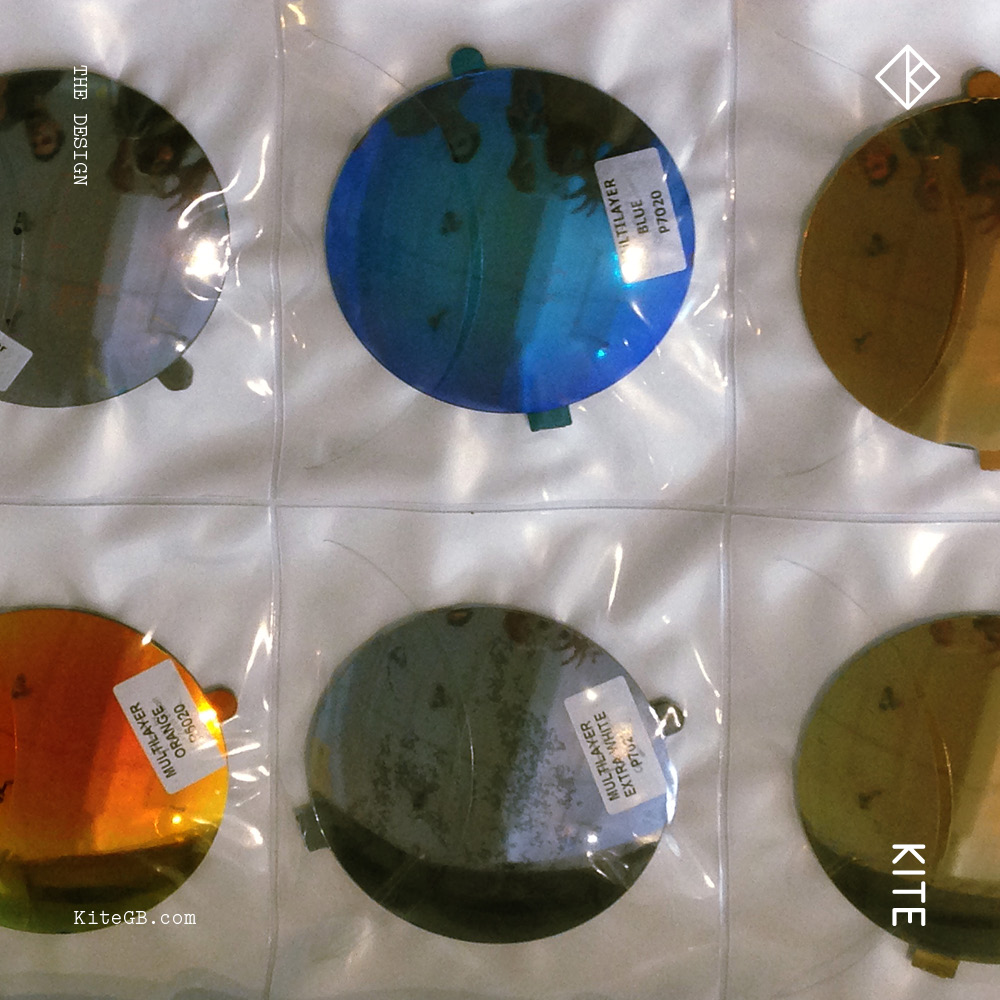 Earlier you mentioned that part of your inspiration behind KITE was English heritage, but does being Italian also influence your design?
Oh yes most certainly especially the various colours used.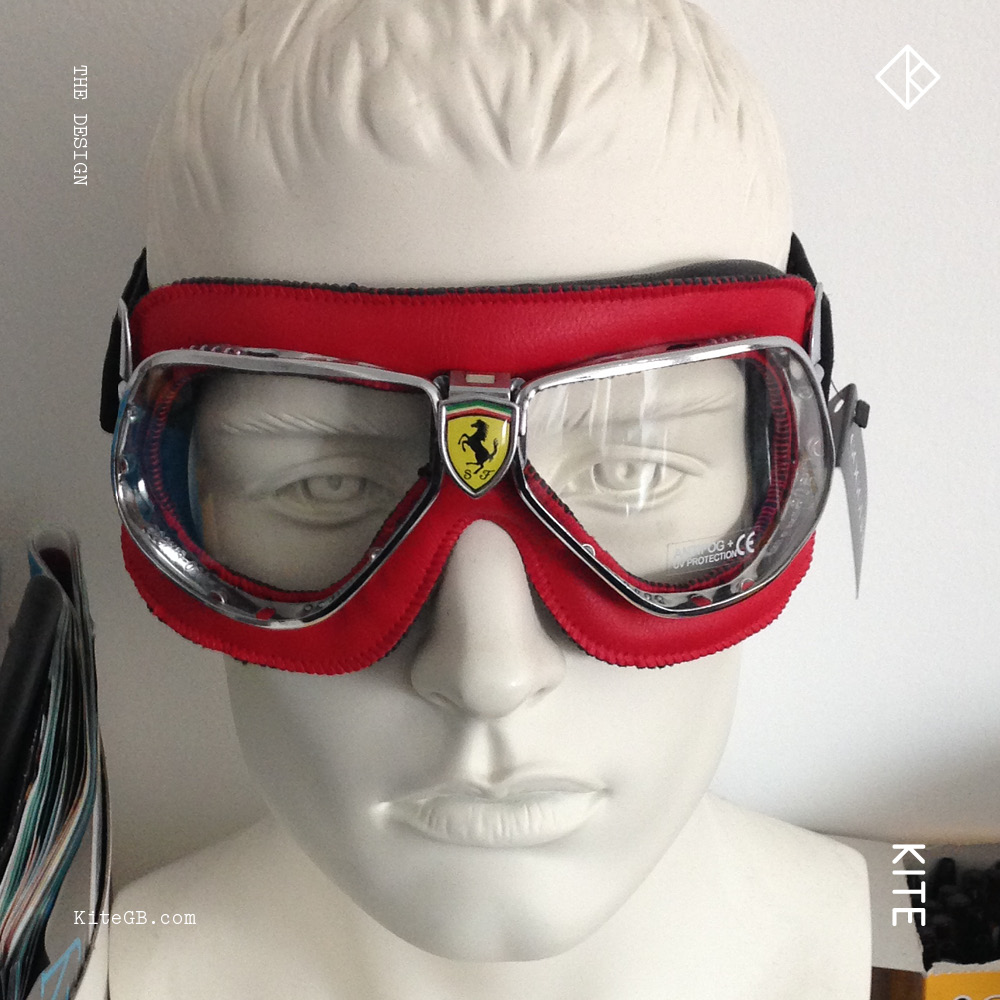 Can you give us an example?
Like the blue Marrakech frames, blue and gold lenses are both very popular in Italy. We did some research when I was out there and found that everyone would wear one colour, and this would include their accessories, like what I'm wearing right now (Marcello wearing all grey, if your wondering). And that was where the idea of creating the transparent grey lenses came from:
(Marcello goes off to get them)
The lenses match the actual acetate, so it all looks grey. The ladies frames also have great European influence, unless you go to high-end boutiques most of the colours used in high-street eye wear are very safe. And with KITE you can spend less and buy more, changing your eye wear to match different aspects of your wardrobe.


Can you sum up KITE in a few words?
Exciting, bold, simple, Excellent Quality, different.
Which KITEs do you wear?
The problem is people keep taking them from me because they just fall in love with them (Sigh…love at first KITE).
What was the first stage of the design process?
Once we come up with the concept, after coming up with shapes and silhouettes, we then look at fitting. The nose pads for example have been increased to 10mm. Normally glasses made for Europe have 8mm nose pads. We have also increased the length of the temple arms, which makes them so much more comfortable to wear.
We worked closely with the factory, and had the first samples printed within three days so that we could adjust the shapes, before they went to production.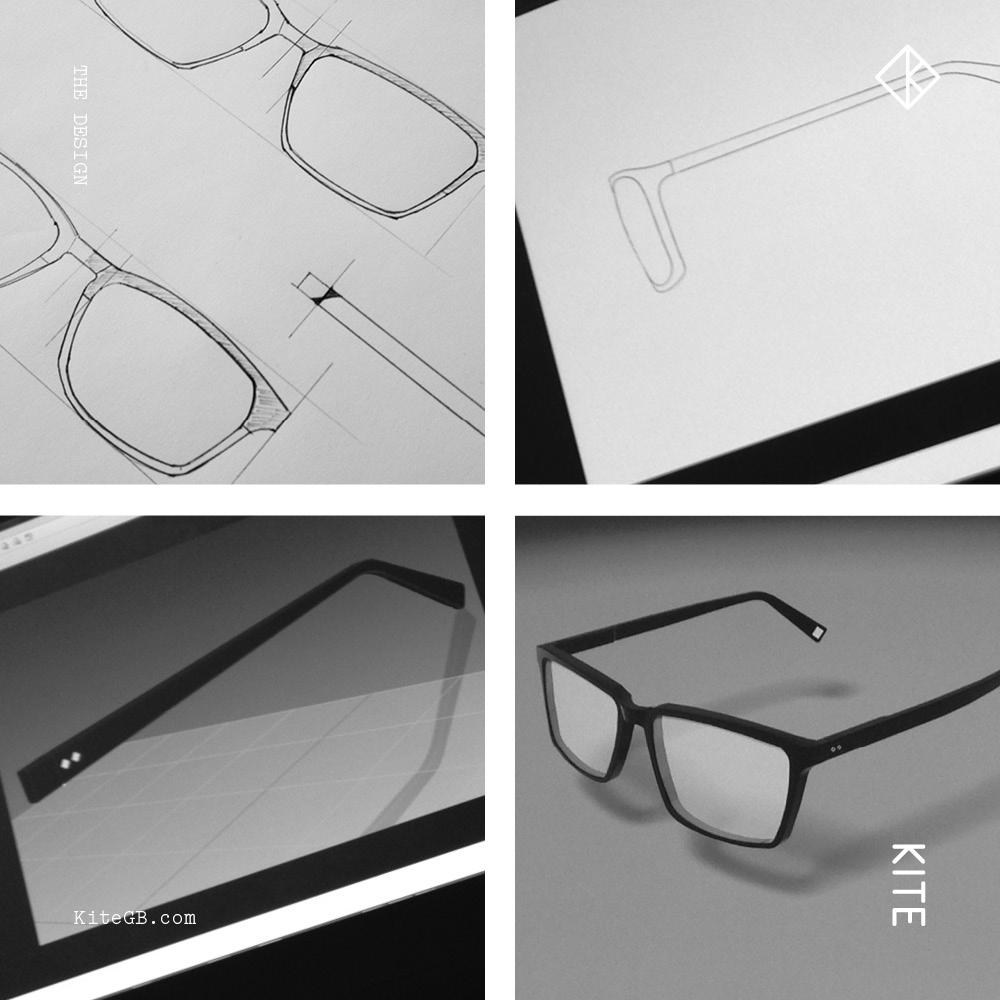 All the designs are handmade?
Yes, all the designs are handmade and hand finished. It's a bit of a back and fourth process, the initial designs will go to the factory and then they are sent back to me with feedback. This is usually based on the manufacturing process; it is usually at this point when we may need to make modifications.
This is then programmed into a CNC machine, which first off cuts the acetate, and away we go. That is one of only a few processes, which is done by machine, everything else is done by hand, which is what makes each pair of KITEs so unique.
What about future designs?
I actually had a conversation about this with Asad the other day. We are seriously looking to turn the volume up in-terms of design. Asad refers to our current collection as "Vanilla" the time has now dawned to focus on chocolate and strawberry. Watch this space.
---
05/08/14